Is your tub stained, chipped, worn or outdated? It's not your fault! Years of wear, harsh cleansers, porous grout that gathers mold, or outdated color – all these things can make you hate your bathtub.
Bathtub Liner, Replace or Refinish - Which is best?
Bathtub Liners
Bath liners are typically made of acrylic and fit directly over your old tub. They take about 2 weeks to make to fit your application and can be installed in about a day.
CONS:
Bath liners noticeably look & feel like acrylic – not the glossy, solid finish of a new porcelain tub.

Unless they are fitted and sealed perfectly, a break in the surface can allow moisture to accumulate between the liner and the tub which can lead to mold conditions. Some people say liners can feel spongy to the touch. Bath liners simply cover up any stains or unsanitary issues – they don't eliminate them.
Cost: The bigger the tub and the larger surface area of walls to be covered the more expensive

your project will be. 

On average, costs can be $2500 and up which is

typically 2-3 times the cost of refinishing

.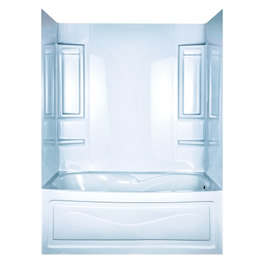 Replacing a Bathtub
Replacement bathtubs can be a good solution, however, be prepared to spend far more than the cost of the $300 bathtub. There is the cost of installation, demolition or hauling out and disposing of your old tub as well as the potential for plumbing alterations. There is also labor involved in caulking and tile repairs to the surrounding wall.
CONS:
You could be without a bathtub for weeks or more.
Extras could add up to thousands of dollars.
Cost: Replacing your tub

 

typically costs 75% more compared to refinishing

.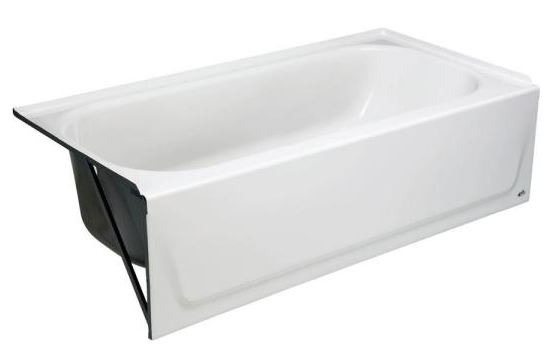 Bathtub Resurfacing… the superior solution
With resurfacing, we we strip the tub down, repair cracks or damaged areas, refinish it, re-grout and re-caulk every project. It's a sanitary solution that looks, feels and lasts as good as new for a lot less $$$. AND, it can be done in 3-5 hours!
Works on: CERAMIC, PORCELAIN, FIBERGLASS, ACRYLIC, CAST IRON, CLAWFOOT, AND TILE
 Eliminates ugly stains or mildew grout lines
Leaves you with a sanitary surface that is easy to clean
 Most people cannot tell the difference between a tub we've refinished or a new tub. We use a premium acrylic urethane and adhesive coating that bonds directly to the tub. It has the same look and feel of a new tub. We use a proprietary process to make your bathtub, sink, countertop and tile look like new.