If you have a damaged, chipped, cracked or just outdated tile, you really only have two choices – refinish it or replace it. Replacement can be a very costly and time consuming process because of demolition, tile costs, grout, caulking and molding that needs to be done. You could be without a bathroom for weeks. Refinishing ceramic tile is a smart choice.
Ceramic Tile Refinishing Will Save Big $ Versus Replacing
Refinishing ceramic tile is a smart choice because it is much less costly than replacing, and it can be done in 3-5 hours. Once the reglazing process is complete, your tile will look brand new and will be easy to clean with a mild liquid cleaner.
Less costly than replacing
Change or match colors for décor purposes
Retains the look and feel of the original ceramic
More sanitary – seals the grout/caulking
Refinishing Acrylic, Ceramic or Fiberglass Surrounds
Maryland Tub and Tile can also repair and refinish your damaged or faded acrylic or fiberglass bathtub surrounds. Our reglazing compounds are superior in durability, increasing the shine of your bathtub or shower surface and making the surface easier to clean.
DON'T REPLACE IT…
REFINISH IT!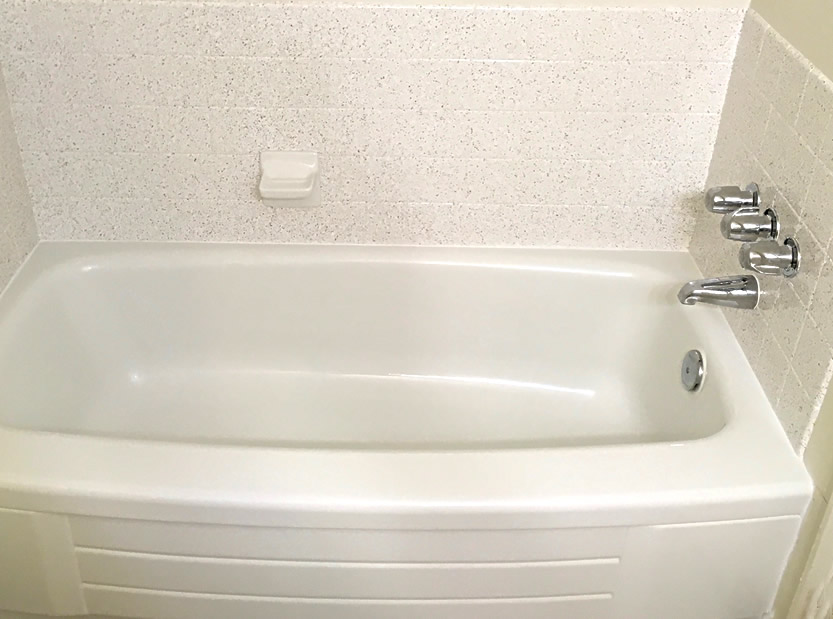 Tile Colors and Color Matching
We can match virtually any color. Please provide your custom color choice, prior to the appointment, so we can order your color ahead of time (allow at least five days for custom colors). View more colors and finishes.
Refinishing removes dirt, mold, and staining. Creates a sanitary bond over your grout.
Beautiful stone-look accents to enhance your countertops, vanities and ceramic tile
Our expert technicians can match any color you have in mind!