Is your shower tile or shower pan stained, moldy, worn or outdated? It's not your fault! Years of wear, harsh cleansers, pourous grout – all these things can make you hate your shower. Refinishing your shower is a smart choice because it is much less expensive than replacing – no demolition or tedious tile work. We strip the tile, repair cracks or damaged areas, reglaze it, re-grout and re-caulk every project. AND, it can be done in 3-5 hours for a lot less $$$!
Are your grout lines dirty or moldy? Is your color out of date?
DON'T REPLACE IT...

REFINISH IT!
Done in less than a day
More sanitary – seals grout lines – makes cleaning a breeze!
Fixes chips, cracks & worn areas!
Restore the original color or go with a completely new color!
Looks AND feel brand new!
Flat rate pricing, No surprise fees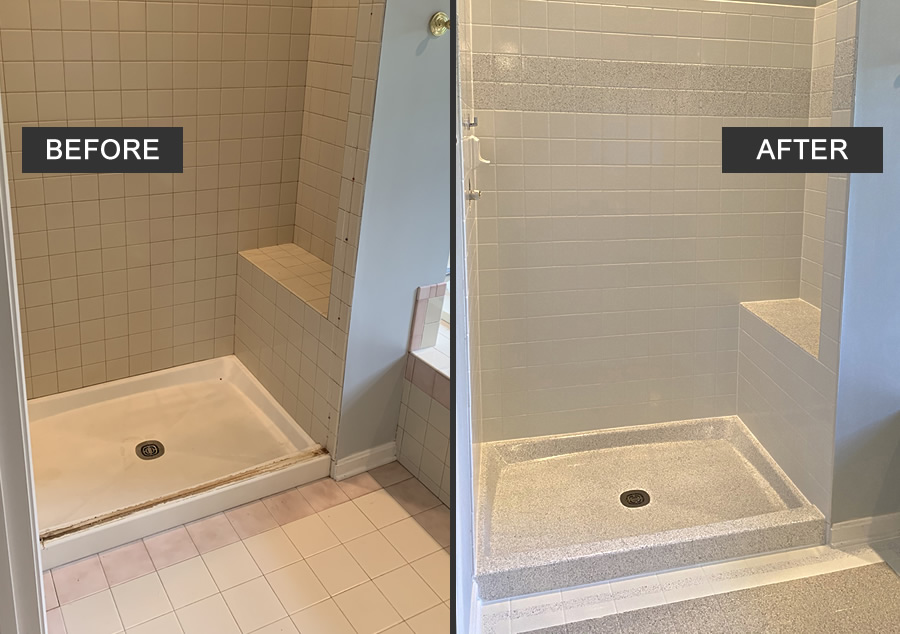 We use a premium acrylic urethane and adhesive coating that bonds directly to the tile. This is our own proprietary process with premium bonding to make your shower pan and tile look like new. We re-grout and re-caulk on every refinishing project.
We are the refinishing specialists with one of the best guarantees in the business – and we put that in writing. 3 year guarantee on reglazing – it won't flake, blister, lift or peel.

We can match virtually any color and we can even use premium materials to give your job a unique, designer look of expensive granite or marble at a fraction of the cost of real stone.
Refinishing works on most surfaces – whether you need to eliminate moldy grout, update bathroom colors or repair cracks and ugly imperfections – call or inquire today for a free, fast estimate!